News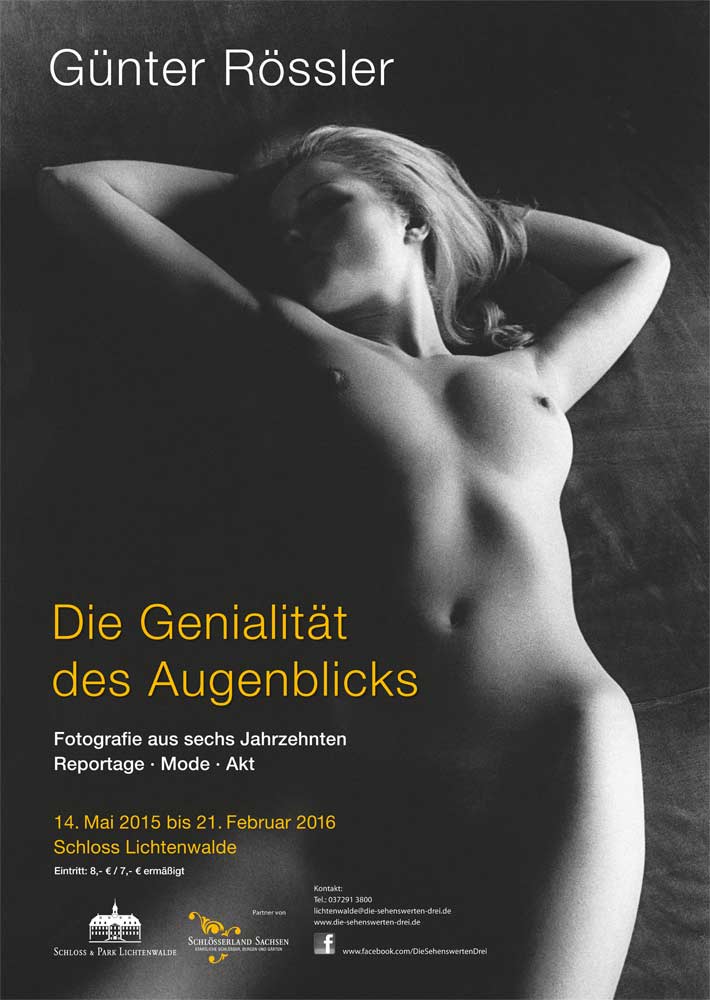 From the second half of the twentieth century, Günter Rössler shaped the history of German photography. Among the photographic work he left behind are exciting historic documents, and unique works of art. With his first solo exhibition at the end of the seventies, he introduced nude photography as a serious and independent form of art into public discourse. His photographs can be calm as well as strong pictures charactericed by timelessness and a high aesthetic appeal that touches those who appreciate Rössler's creative approach, vision and work. He composed visual forms that consistently aim for authenticity and naturalness.
Following a creative period of over 60 years, Günter Rössler died on 31 December 2012 in Leipzig. In honor of Rössler's life and work, Castle Lichtenwalde exhibited 150 original photographs in the first exhibition after Rössler's death. "We are proud to have been able to show the great art of the most famous East German photographer here in Lichtenwalde", says Patrizia Meyn, manager of Schlossbetriebe gGmbH Augustusburg, Scharfenstein and Lichtenwalde.
Moreover, from May 14 to May 22, 2016 photographs were shown that personally touched Günter Rössler and that he considered important. Part of the exhibition was a 90-minute-documentary by Fred R. Willitzkat called "The genius of the moment" about Rössler's creative work. The film shows Günter Rössler as a quiet and modest human being, who succeded in remaining true to himself for all of his life. Günter Rössler was part of his photographic art and it was part of him: unpretencious, precise and stylistically confident.
More than 25 000 people visited the exhibition.
Current exhibitions
Kunstgewerbemuseum, Schloss Pillnitz, Dresden, 
28.04.2018 – 04.11.2018
Sibylle – The exhibition
The popular DDR magazine for fashion and culture "SIBYLLE" was closely shaped by the works of its freelance photographers. Their contributions to fashion, art, reportage and other cultural topics firmly established the magazine's success. Günter Rössler was one of the photographers who strongly influenced the style of the magazine.
More information available on www.skd.museum
GÜNTER RÖSSLER
THE GENIUS OF THE MOMENT
NUDE – FASHION
PHOTOGRAPHY FROM SIX DECADES
KUNSTHALLE OSTSEEBAD KÜHLUNGSBORN
30.06.2018 – 07.10.2018
www.kunsthalle-kuehlungsborn.de
Contact details
Kirsten Schlegel
Schillerplatz 3
04416 Markkleeberg
Germany
+49 (0)172 9882866
+49 (0)341 3380119
+49 (0)341 3339684